Click here to see the Official 2021 Golf Tournament Scores!!!
Aloha All Participating Golfers!
Mahalo for participating in our 12th Annual Golf Tournament Fundraiser – The first Virtual Fred Koehnen Memorial Golf Tournament!
The Virtual Awards Ceremony will be on December 1, 2021 at 4:00 PM. We expect it to be a fun but quick ceremony. If you participated in the tournament but did not get an email inviting you to the ceremony by Nov. 30, please contact the person who signed you up for the event and/or email Liz directly at: membership@lymanmuseum.org to get a link to the event.
MAHALO!!!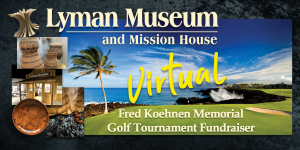 Welcome to the 21st Century way to play a Golf Tournament Fundraiser! This year's Fred Koehnen Memorial Golf Tournament Fundraiser is going VIRTUAL! So exciting I KNOW, we can't wait either! This is going to be so much fun!
We are playing the Lakes/Beach Course (the original Beach Course 18-holes) at the Waikoloa Beach Golf Course. AND we have a little over a month to play! You may even play twice if you want!
The tournament dates are October 16, 2021 through November 21, 2021. Registration/Signup online at: https://tinyurl.com/lymangolf or you may download a registration form here: https://lymanmuseum.org/wp-content/uploads/2021/09/2021_golf_editable.pdf. (golf registration form is an editable .pdf)
Early Birds get entered into an additional prize drawing and must be registered by October 4, 2021 in order to qualify. Registrations for the tournament accepted through November 19, 2021 (extended date). Last day to play in the Tournament is Sunday November 21, 2021. Once your registration and payment has been received, we will email you the registration number for your team (s). Once you have your registration number you will be able to locate the live scoring on the GolfStatus.org and live leaderboard (yes a LIVE leaderboard, you'll be able to see what the competition is up to)!
Teams (two player teams) are responsible for booking their own tee times with the Waikoloa Beach Golf Course. The Waikoloa Beach Golf Course is open Monday-Sundays. In order for everyone to play the same course (Lakes ꟾ Beach (original Beach Course 18-holes) the tee times must be set up between 9am and 10:50am or 1:00pm to 2:50pm, October 16, 2021 through November 21, 2021. No exceptions. Call Waikoloa Golf Course at: (808) 886-5172 or email: bryan@waikoloaland.com (please book tee time at least 3 days before you want to play)
For live scoring on the course, please download the GolfStatus.org app on your cell phone, https://golfstatus.com/download. We recommend that you download it as soon as you are registered so that you have time to get familiar with it. Alternatively you may keep track of your golf scores using with a paper score card. If you use a paper score card, take a photo of your score card and email it to: membership@lymanmuseum.org no later than Monday November 22, 2021. (if using a paper score card, player's names and scores must be legibly written)
Virtual Awards Ceremony – December 1, 4:00 PM. Invitations and links will be sent to participants.