Current Special Exhibit
John Howard Pierce Photograph Second Exhibit of Photographs of Hawai'i Island 1958-1969
The Second John Howard Pierce Photograph Exhibit will open May 20, 2016 at the Lyman Museum and will run throughout the year.
John Howard Pierce, a former Hawai'i reporter and Lyman Museum curator, was an avid photographer who documented life on Hawai'i Island during a time of great historical importance—the years before and after statehood.
His work is a visual record of our local history, recent enough for community members to remember so vividly that they were able to help Museum staff identify faces, places and events captured in the photographs on exhibit.
Click here to see some photos currently in the John Howard Pierce Gallery.
Featured Permanent Exhibit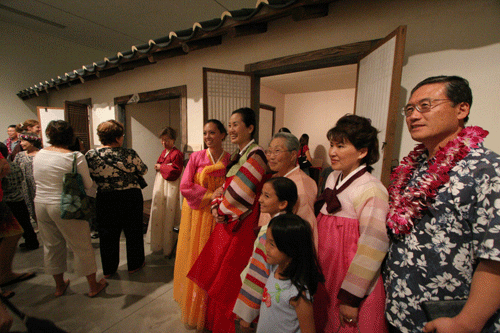 Grandfather's House: An Exhibition on Korea
Featuring a full-scale replica of a 1930s rural Korean home, Grandfather's House is a completely immersive exhibit, allowing visitors to step back in time to life in rural Korea during the 1930s.  Featuring period furnishings and decor, the house represents a traditional single-story Korean home complete with tile roof, courtyard, and a hands-on kitchen.  The layout reflects the gender separation of work and life of the period with separate areas for men and women.
The Newark Museum in Newark, New Jersey created the exhibition in 1995.
It later traveled to the Seattle Asian Art Museum and the Honolulu Academy of Arts.  Grandfather's House has now reached its current home at the Lyman Museum.
Additional information on Grandfather's House, including teacher resources, is available online courtesy of the Seattle Asian Art Museum.