Past Special Exhibits: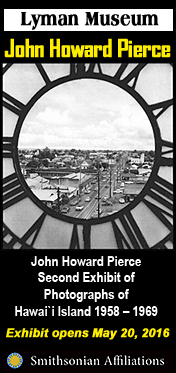 John Howard Pierce Photograph Second Exhibit of Photographs of Hawai'i Island 1958-1969
The Second John Howard Pierce Photograph Exhibit will open May 20, 2016 at the Lyman Museum and will run throughout the year.
John Howard Pierce, a former Hawai'i reporter and Lyman Museum curator, was an avid photographer who documented life on Hawai'i Island during a time of great historical importance—the years before and after statehood.
His work is a visual record of our local history, recent enough for community members to remember so vividly that they were able to help Museum staff identify faces, places and events captured in the photographs on exhibit.
Click here to see some photos currently in the John Howard Pierce Gallery.
Grandfather's House: An Exhibition on Korea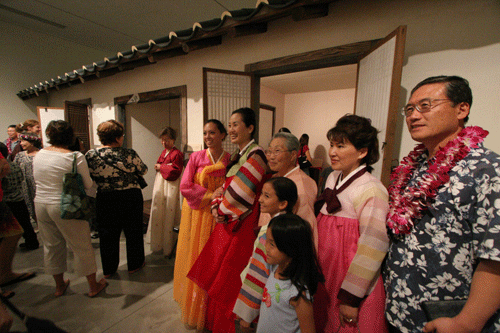 Featuring a full-scale replica of a 1930s rural Korean home, Grandfather's House is a completely immersive exhibit, allowing visitors to step back in time to life in rural Korea during the 1930s. Featuring period furnishings and decor, the house represents a traditional single-story Korean home complete with tile roof, courtyard, and a hands-on kitchen. The layout reflects the gender separation of work and life of the period with separate areas for men and women.
The Newark Museum in Newark, New Jersey created the exhibition in 1995.
It later traveled to the Seattle Asian Art Museum and the Honolulu Academy of Arts. It was housed at the Lyman Museum for many years. (Stay tuned here for it's new location)

Additional information on Grandfather's House, including teacher resources, is available online courtesy of the Seattle Asian Art Museum.

Nā Kuana`ike Pāheona o Hawai`i: Artistic Perspectives of Hawai`i
August 17, 2015 – November 14, 2015
The exhibit, "Nā Kuana`ike Pāheona o Hawai`i: Artistic Perspectives of Hawai`i," brought together paintings, prints, and photographs from the 18th to the 21st centuries, covering five major themes: The Time of Contact, Hawaiian Royalty, Hawaiian Culture, The Volcano, and Hawaiian Landscape.
Each section included a selection of paintings, most from the permanent collection of the Lyman Museum and some on loan for the exhibit. The paintings featured were by artists from the time of Cook's visit until the recent past. Contemporary photographs provided a recent perspective on similar themes from two local photography organizations, the Kona Camera Club and the Hilo Photo Club.
Since 1778, when the Resolution and the Discovery under Captain James Cook made contact with the thriving culture and beautiful islands of Hawai`i, artists have been using their skills to bring their perspectives of "paradise" to a wide audience. Many of the works of art in the special exhibit came to the Museum through the generous bequest of Donn Carlsmith. Others were donated to the Museum by a number of individuals and some were loaned specifically for this exhibit. The Isaacs Art Center at Hawai`i Preparatory Academy was a generous source of works by Herb Kāne.
Paul Dahlquist, former Director and current Trustee of the Lyman Museum, served as guest curator for the special exhibit.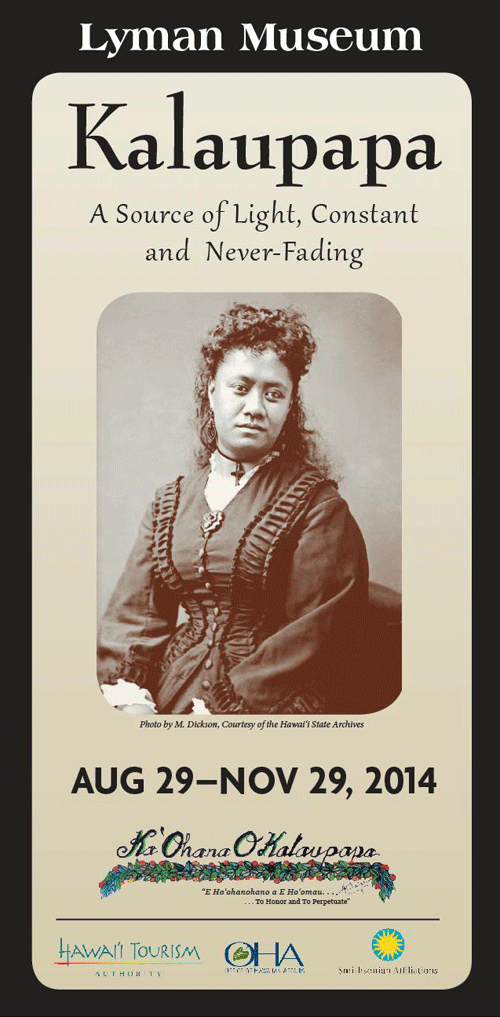 Kalaupapa: A Source of Light, Constant and Never-Fading
August 29, 2014 – November 29, 2014
This exhibit focused on the strong relationship between the people of Kalaupapa and the Royal Family of Hawai`i, a chapter of history often overlooked. Recently presented with a Preservation Media Award by the Historic Hawai`i Foundation, the exhibit featured historical and contemporary photographs along with the words of the people in both English and Hawaiian.
There was also be a presentation accompanying the special exhibit, "The Restoration of Family Ties", given by Valerie Monson of Ka`Ohana O Kalaupapa, about the work of the `Ohana in reconnecting the families to their Kalaupapa ancestors followed by family members from the Hilo area discussing their memories and experiences. This presentation was held on Monday, November 10, 2014 as part of the Lyman Museum's Saigo Lecture Series from 7 p.m. to 8:30 p.m. in the museum classroom.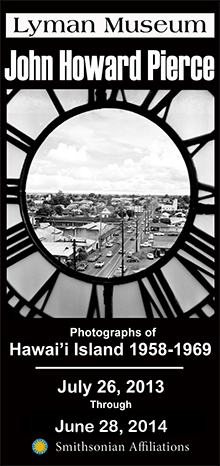 John Howard Pierce: Photographs of Hawai'i Island 1958-1969
July 26, 2013-June 28, 2014
John Howard Pierce, a former Hawaii Tribune-Herald reporter and Lyman Museum curator, was an avid photographer who meticulously documented his beloved home of Hawai'i Island in the mid-twentieth century, a pivotal period defined and galvanized by the admission of Hawai'i into the United States in 1959.
The photographs in this exhibit–a small but representative sampling of the John Howard Pierce Collection–provided a view to this recent past, revealing a community ambitiously growing, changing, and constructing a new future; remembering and reclaiming its traditions; and savoring the simple pleasures of everyday life.
Visitors were invited to view Hawai'i Island of half a century ago through the lens of John Howard Pierce, whose photographs help the Museum tell the story of Hawai'i, its islands, and its people.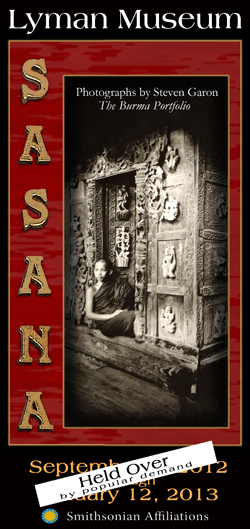 Sasana: The Burma Portfolio
September 7, 2012–May 25, 2013
Sandwiched between India, China, and Thailand, Burma is slightly smaller than Texas with a population of 60 million people from thirteen ethnic groups. For over 2,000 years, Buddhism and the Burmese monks have been central fixtures in Burmese society, and over 80% of the country's people practice Theravada Buddhism. At the core of the local culture is "sasana," the teachings of the Buddha and the mutual obligation of all living beings. In her speeches, Nobel Laureate Daw Aung San Suu Kyi summarizes these teachings simply as acts of kindness.
A volunteer with the Aloha Medical Mission, an organization that provides healthcare services to the underserved peoples in the Pacific, Asia, and here in Hawai`i, Dr. Steven Garon captured images of the people and local culture of Burma (Republic of the Union of Myanmar) on his vintage Linhof view camera between 2006 and 2011. The result was an exhibit of humanity and compassion universal in scope.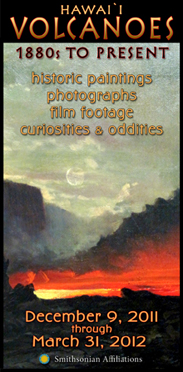 Hawai`i Volcanoes: 1880s to Present
December 9, 2011–June 2, 2012
From December 9, 2011 through March 31, 2012 and then extended through June 2, the Lyman Museum presented a special exhibit on "Hawaii's Volcanoes: 1800's to Present" featuring historic paintings, photographs, film footage, oddities, and curiosities.
In celebration of Hawaiian Volcano Observatory's centennial, rarely displayed paintings by Hitchcock, Bailey, and Furneaux from the Museum's collections were on display, as well as volcanic specimens and newly digitized film footage of Kīlauea eruptions as early as the 1930s.
The exhibit included over two dozen framed photographs dating back to 1881 and vintage film footage of the Halema`uma`u (1930s), Puna (1955), Kīlauea Iki (1959), and Kapoho (1960) eruptions. Missionary Sarah Lyman's written accounts of earthquakes and eruptions were also included.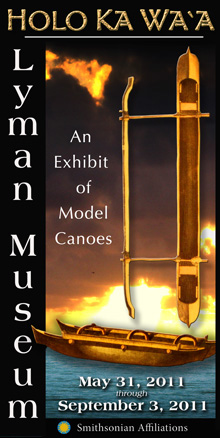 Holo ka Wa'a, ā Pae i Kula
May 31–October 29, 2011
(The Canoe Sails On, Until Land is Reached) was a special exhibit of model canoes representing Polynesia, Melanesia, and Micronesia, as well as Alaska, supplemented by vintage photographs, maps, and informational panels that placed canoes in their historical and cultural contexts.
Also included in the exhibit were a large one-seater fishing canoe from Kona, carved of koa in the 1950s, and a pair of weathered wooden hoe (paddles) found in Ka`ū. Although canoes from each region differ in construction and building materials, they all have a common link to the Hawaiian canoe, or wa`a. Canoes were designed according to their purpose, island environment, and the dynamics of oceanic and coastal waters.
The models in Holo ka Wa`a show considerable variety: some are wooden, some made of bark, some have lā (sails) of lau hala, and many have outriggers. In Hawai`i, koa was the most prized wood for canoe making. The koa log was hollowed with an adze into a kuamo`o (hull), which was then painted black and coated with kukui oil.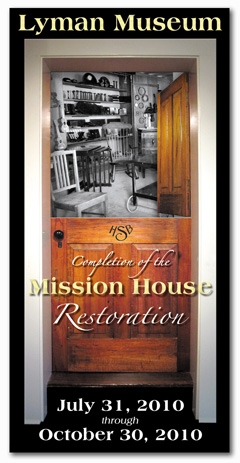 Reverend Lyman's Annex Restoration
August–October 2010
Report to the Hilo Boarding School's principal's office immediately! Or rather, do so on a guided tour of the Lyman Mission House. The recently restored Annex of the historic home was built in 1845 for Reverend David Lyman's office and barter room. It has never before been open to the public but is now officially a part of the Mission House tour. View koa furniture crafted by HBS students, learn about early 19th century trade, and discover how lime plaster was made from local materials in this wing of the house.
The Hilo Boarding School was founded by Rev. Lyman in 1836 for Hawaiian boys, and by the 1890s the school also welcomed sons of local sugar plantation workers. The school combined religious and secular studies with some agricultural work. Instruction was given in the Hawaiian language until 1853 when the Hawaiian government requested schools to teach bilingually in Hawaiian and English. Eventually, the curriculum focused on vocational training, including blacksmithing, printing, and carpentry.
The Annex work was the last phase of a complete Mission House restoration made possible by the G.N. Wilcox Trust Foundation; S.W. Wilcox Trust Foundation; Hiroaki, Elaine & Lawrence Kono Foundation; Hawai`i Tourism Authority; and the Cynthia Woods Mitchell Fund of the National Trust for Historic Preservation.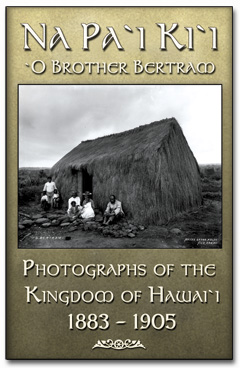 Na Pa`i Ki`i o Brother Bertram
April 2009–May 2010
Salvaged from trash cans in 1964 and then stashed in archives for decades, a collection of glass plate photographs capturing life in the Kingdom of Hawai`i from 1883-1905 was resurrected in Na Pa`i Ki`i o Brother Bertram.
As the first Marianist principal of St. Louis College (now St. Louis School in Honolulu), German-born Brother Bertram Gabriel Bellinghausen left a legacy of education and service to the Islands. As a pioneering photographer with a particular interest in the maka`āinana or common people, his legacy includes nearly 2,000 images of the people and landscape of turn-of-the-century Hawai`i. This exhibition featured a selection of photos of Hawai`i Island.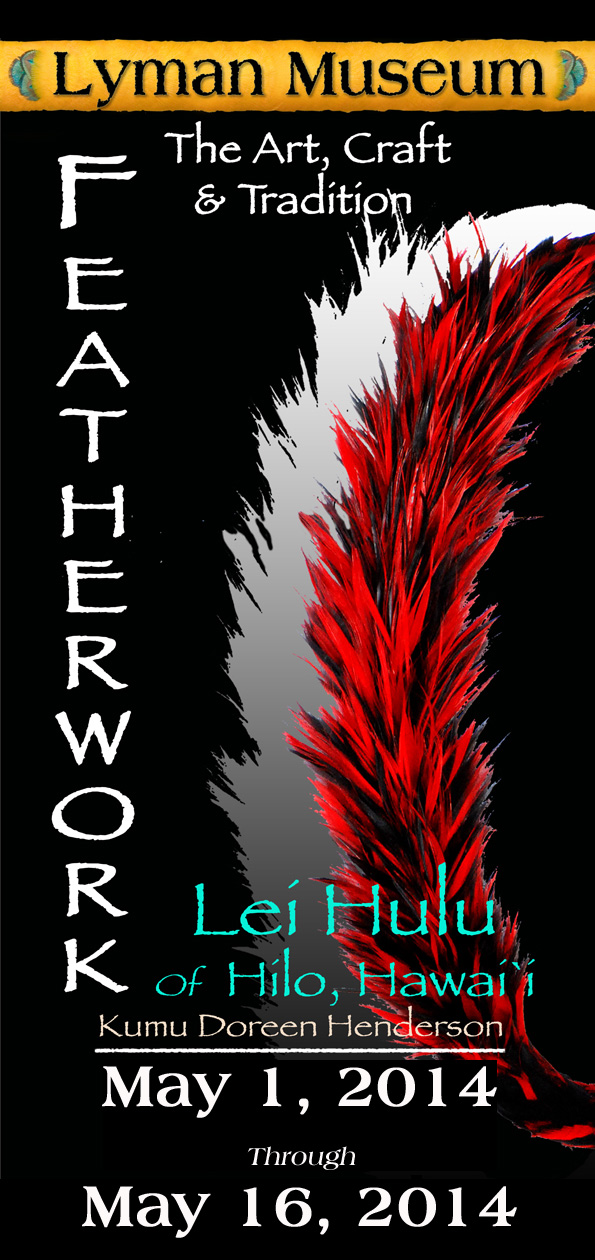 Featherwork of Hawai`i
May 1–15, 2010
In celebration of Lei Day, Kumu Doreen Henderson and her students, collectively known as Lei Hulu of Hilo, returned with a 2-week exhibition complete with daily demonstrations. Visitors experienced an artistic tradition unique to Hawai`i as the Museum displayed a colorful array of feather masterpieces such as lei hulu (feather lei), kāhili (royal feather standards), `uli`uli (feather gourds and rattles), and `ahu`ula (feather capes).
Lei Hulu of Hilo was founded by Hilo native Kumu Doreen Henderson, who has dedicated her life to the preservation and perpetuation of Hawaiian featherwork and has been practicing the art for over 30 years. This exhibit was sponsored in part by the Hawai`i Tourism Authority.