When:
November 4, 2014 @ 5:00 am – 6:30 am
2014-11-04T05:00:00+00:00
2014-11-04T06:30:00+00:00
Cost:
$3; free to Lyman Museum members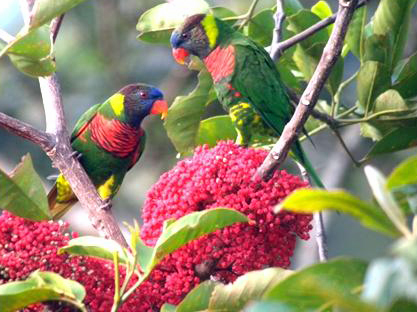 The island of New Guinea has been called the cradle of birdlife for the tropical Pacific.  Amazingly, its avian emigrants have colonized lands as far away as Hawai`i to the east and even Asia, Europe, and Africa to the west.  Some New Guinea birds have never left their native habitat but are renowned today for their spectacular beauty, calls, and habits, among them the birds of paradise and the bowerbirds.  The Kokoda Track, famous as a World War II battle site and now a challenging but popular hiking trail, offers unmatched opportunities to view these and other singular creatures.  Tonight, lace up your boots and we'll join Bishop Museum wildlife biologist Dr. Thane Pratt on a virtual 27-day hike through the jungles and across the mountain ranges of New Guinea in a quest to discover the rich birdlife of our planet's second-largest island.