When:
November 23, 2019 @ 1:00 pm – 4:00 pm
2019-11-23T13:00:00-10:00
2019-11-23T16:00:00-10:00
Where:
Lyman Museum
276 Haili St. Hilo
HI 96720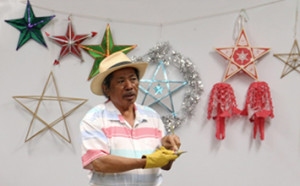 In celebration of the holiday season, Lito Asuncion returns to the Lyman Museum to present a workshop on the making of the parol, a Filipino star-shaped Christmas lantern that is illuminated and hung outside homes in many parts of the world.
The origins of the parol can be found in the Mexican piñata. The piñata came to Spain from Italy in the 1300s, spread to Mexico, and finally came to the Philippines when Spaniards brought Christianity to the islands. The earliest parol were traditionally made from simple materials such as bamboo sticks, Japanese rice paper, crepe paper, and a candle or coconut oil lamp for illumination.
The present-day parol can take many different shapes and forms but is still a recognizable symbol to many Filipinos and represents the Star of Bethlehem. For Filipinos in many areas, making a parol, decorating it, and lighting the lantern is an expression of shared faith and hope. Celebrate the Advent and Christmas season at your own home with a beautiful parol!
Please call the Museum at 935-5021 ext. 101 by Wednesday, November 20, 2019 to register and reserve your spot in advance!
Lyman Museum ~ 276 Haili St ~ Hilo, Hawai`i ~ (808) 935-5021 ~ www.lymanmuseum.org
The nationally accredited and Smithsonian-affiliated Lyman Museum showcases the natural and cultural history of Hawai`i to tell the story of its islands and people.