When:
October 22, 2014 @ 5:00 am – 6:30 am
2014-10-22T05:00:00+00:00
2014-10-22T06:30:00+00:00
Cost:
$3; free to Lyman Museum members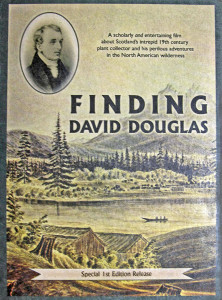 This year marks the 180th anniversary of the death of Scottish botanist-explorer David Douglas in Hawai`i (see September 8th's program, above), and the Lyman Museum is proud to celebrate his life of discovery with the documentary film "Finding David Douglas."  A joint endeavor of the Forestry Commission Scotland, the U.S. Forest Service, and the Oregon Cultural Heritage Commission, the film follows Douglas from his native Scotland to his "plant-hunting" travels through Oregon, Washington, California, and British Columbia, from the Canadian Rockies across the continent to Hudson Bay, and westward again to the Hawaiian Islands where he met his mysterious end.  His work was dangerous, hair-raising, and heartbreaking, but in his abbreviated life Douglas managed to discover and/or introduce to the gardens and forests of the Old World more than 200 previously undocumented plant species.  This film portrait of the intrepid 19th-century Scot—an environmentalist before his time—is a compelling example of how one person's efforts to explore the natural world can make a difference in our understanding of it.  This evening, filmmakers (and botanist, historian) Gordon Mason and Lois Leonard share this very special presentation and answer your questions about how it was made.  DVD copies of the documentary will also be available for purchase.