When:
August 15, 2014 @ 8:00 pm – August 17, 2014 @ 2:00 am
2014-08-15T20:00:00+00:00
2014-08-17T02:00:00+00:00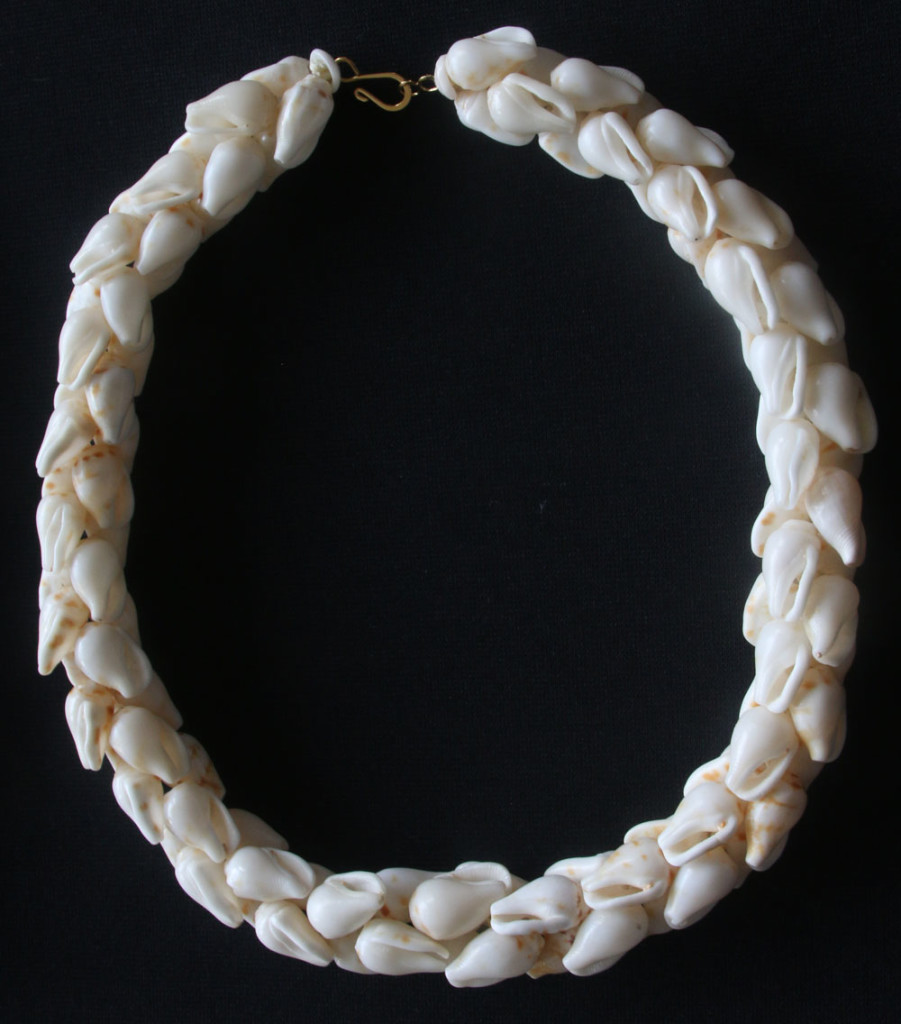 For the very first time ever at the Lyman Museum, men (and women too!) will have the opportunity to create a one-of-a-kind Ni`ihau shell lei that traditionally is made and worn by men for very special occasions such as a wedding, or a hula hālau performance!
Kele Kanahele of the Island of Ni`ihau will teach the authentic creation of these rarely seen pieces of Ni`ihau heritage, twice in August:
Friday, August 15, 10:00 A.M. to 4:00 P.M.
Saturday, August 16, 10:00 A.M. to 4:00 P.M.
On either day you may learn how to make an 18-inch necklace/lei, or a pair of earrings for ladies, in the pikake style, using `alilea ke`oke`o shells (white).  The `alilea is known as the large dove shell because it closely resembles but is slightly larger (about ¾ inch long) than the better-known momi or dove shell.  Such lei are rarely made because piercing is very difficult due to the thickness of the shell.  The earrings for these workshops will use much smaller shells to create pieces appropriate for ladies.  You may, of course, create more than one piece, as long as you sign up for specific pieces in advance.
Space is limited to 24 persons per day; only people who have registered can be permitted in the classroom. Reservations must be made, pieces specified, and the workshop fee(s) paid by Friday, August 8, REGISTRATION EXTENDED THROUGH TUESDAY, AUGUST 12 to ensure your place and the availability of shells.
Workshop fees (inc. materials):             Museum member                             Nonmember
18-inch lei                                                                  $380                                                    $410
Earrings                                                                      $105                                                    $130
Kāne, follow in the footsteps of generations of Ni`ihau men by creating and wearing this classic lei on important occasions of your own!  And wāhine, these pieces will look just as lovely on you … or you can give your special someone a treasure of Hawai`i that shows everyone he's a treasure too!