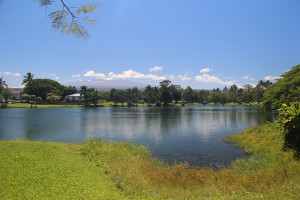 How often do we drive past important places on our island, knowing little or nothing of their history?  Kamehameha Avenue in Hilo cuts through a number of such places, Pi'opi'o, he 'āina momona—the fertile land—being one of them.  The history of Pi'opi'o stretches back to Hawai'i's mythic era and is closely associated with the development of Hawai'i Island chiefdoms.  During the Māhele in the mid 1800s, this entire 'ili kupono was claimed by the ali'i Victoria Kamāmalu and a number of 'Ōiwi (native) tenants.  But what else makes this place important?
Tonight, Lokelani Brandt, M.A. candidate in UH-Hilo's Heritage Management Program, draws from both Hawaiian and English language accounts to illuminate the cultural history of this significant part of the Hawaiian landscape.
Free to Lyman Museum members; $3 nonmembers.
Doors open at 6:30 p.m. for evening public programs.
Limited seating; first come, first seated.
Additional parking next door at Hilo Union School ON MONDAY EVENING ONLY!