When:
March 10, 2015 @ 5:00 am – 6:30 am
2015-03-10T05:00:00+00:00
2015-03-10T06:30:00+00:00
Cost:
$3; free to Lyman Museum members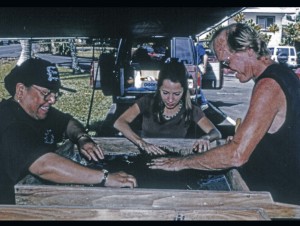 Anyone who has taken a guided tour of the Lyman Mission House knows that, prior to the 1930s, the House was situated directly over present-day Haili Street and the adjacent House lawn.  But did you know that when it was built in 1839, the House had a cellar similar to those Sarah and David Lyman remembered from their childhood homes in New England?  Such cellars, typically a feature of mission homes in Hawai`i, did not transfer well to rainy climates and porous soils and often fell into disuse.  But what might the Lymans' buried cellar tell us today about how they lived in the mid 1800s?  This evening Lynne Wolforth, of UH-Hilo's Department of Anthropology, describes two limited public archaeology projects carried out in the 1990s to identify the location of the Mission House cellar and to recover and analyze historic artifacts from that site—work in which UH-Hilo students were active, hands-on learners.