Check out the Lyman Museum Gift Shop. We've got all sorts of new items in stock: new designs in tea towels from Cane Haul Road … keiki tabi socks featuring adorable animals … a wonderful new series of books from Bess Press, Hawaii Legends for Little Ones … Pua Angel ornaments by Luka Lyman … lovely smaller-sized koa boxes from Designs by Kadooka … and many more!
Some of these items are only available in our shop, support your local artists, local businesses, and your Museum!
We ship! Place a phone order today by calling 808-935-5021.
Members receive a 10% discount on all their purchases.
There is no charge for admission to the Museum Shop.
Check out some the items in our shop:
---
New Edition of Memoirs of Henry Obookiah
Considered the first fruit of the Christian faith among the Hawaiian people, the story of `Ōpūkaha`ia ("Obookiah") is honest and untainted, recounted through his personal diary entries and letters to close friends. It is a poignant narrative of suffering, pain, and his tragic death by typhus at age 26. It is also a story of healing, renewal, joyous faith, and "a new life everlasting" that inspired a generation of young missionaries to leave New England and travel to the Sandwich Islands to fulfill Henry's desire that his people hear the gospel message.
The original memoir, written by Edwin W. Dwight, details the compelling story of a uniquely able, curious, intelligent, hard-working, altogether remarkable 19th-century young Hawaiian man who, forsaking his homeland, jumped into Kealakekua Bay and boarded a ship for America where he embraced Christianity and an education.
The newest edition contains a collection of vintage and current photographs, as well as a new epilogue documenting how lifelong Hilo resident Deborah Li`ikapeka Lee, his blood relative, led the effort to return `Ōpūkaha`ia's remains (iwi) to the Big Island, 175 years after he had been laid to rest in a Cornwall, Connecticut cemetery. $20.00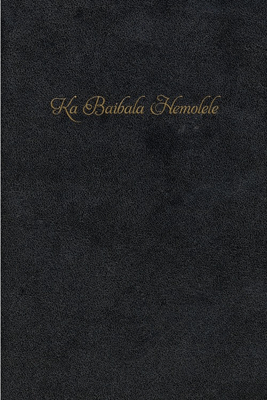 Ka Baibala Hemolele Now in Museum Shop
We are pleased to announce that the Lyman Museum Shop now has the new 2012 edition of the Hawaiian-language Bible, Ka Baibala Hemolele. This beautiful edition derives from the 19th-century original. It is made available by the Partners in Development Foundation with "faithfulness to the original text and accurate scholarship," as well as contemporary Hawaiian-language spelling. For more information on this project, visit www.Baibala.org or call the Museum Shop at 808-935-5021. $45.00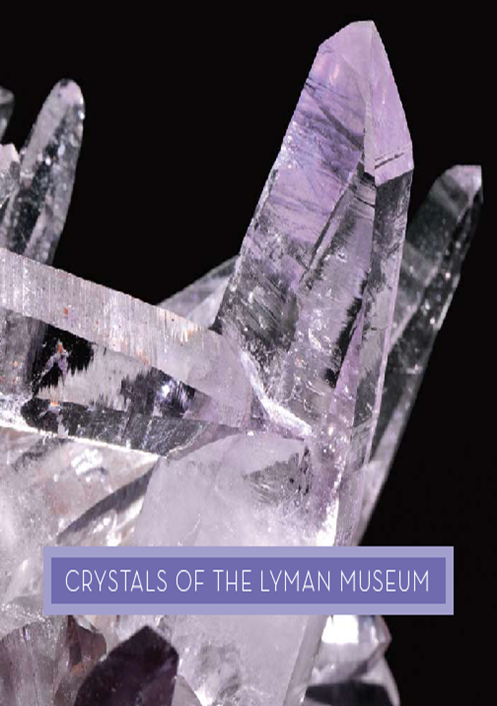 Crystals of the Lyman Museum
The extraordinary rock and mineral collection showcased in the Museum's Earth Heritage Gallery has drawn the public eye and interest for years, a favorite of visitors and a focal point of study for geology students of all ages. And for years we have been asked when the Museum might publish something that would do justice to the collection and to the distinctive way in which it is presented. Thanks to financial support from the Hawai`i Tourism Authority and the County of Hawai`i through their County Product Enrichment Program grants, the Museum is proud to announce that Crystals of the Lyman Museum is now available from the Museum Shop!
This lovely 32-page booklet delights both the mind and the eye. The text and drawings, by Dr. Ken Hon of UH-Hilo, bring to life the science of crystals in an informative and very readable style. Hilo's own Norman Negre produced the striking photographs of minerals that illustrate the book from cover to cover. And Museum Curator Barbara Moir provides an introductory essay on Orlando H. Lyman, the collector and steward of these treasures who turned a boyhood passion into an enduring legacy for the people of Hawai`i. Add this gem to your own collection today! $5.00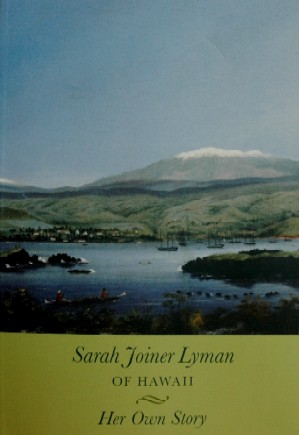 Sarah Joiner Lyman's Journal Back in Print!
The journal of Congregational missionary Sarah Joiner Lyman is now back in print. Sarah Joiner Lyman of Hawaii: Her Own Story is a compilation of original diary entries and letters, spanning Sarah's life from her arduous 1831 journey from New England to the Sandwich Isles, until her death in Hilo in 1885. Contemporary photographs illustrate the book.
Sarah's journal is a firsthand account of missionary life in nineteenth-century Hilo. Her diligent records of local earthquakes and eruptions at Kilauea and Mauna Loa have made her journal an invaluable source for geologists.
This reprinting of the 1970 edition of Sarah's journal has been made possible through the generous contributions of descendants of Margaret Greer Martin, Sarah's great-granddaughter who edited her journal and correspondence into this volume.
Cover: Hilo from the Bay (1852) Oil on Canvas by James Gay Sawkins. $19.95
The Lyman Museum Shop supports local artisans by offering a fine selection of beautiful Hawai`i-made crafts, including koa bowls, hair adornments, artwork, and unique Ni`ihau Shell Lei.
Our full-color booklet "Lyman Mission House" was awarded the Historic Hawaii Foundation 2008 Preservation Media Award. This 46-page booklet traces the evolution of the house from the humble thatched-roof dwelling of the Lymans to the meticulously restored centerpiece of Hilo's oldest museum.
Other offerings include:
• A large selection of Hawai`i-themed story and activity books for keiki of all ages
• Books on Hawaiian language, history, mythology and biography
• Books on crafts including lei and quilt making
• Books on Hawaiian cooking and entertaining
• Natural history guides for fish, shells, flowers, birds and trees
• Cane Haul Road designs on kitchen towels and t-shirts
• Hawaiian music CDs featuring slack-key guitar and ukulele masters
• Hawaii-themed DVDs
• A wide variety of over 25 different mineral samples for those starting or adding to their collections, each $1 or under
…and much more!