When:
August 4, 2015 @ 5:00 am – 6:30 am
2015-08-04T05:00:00+00:00
2015-08-04T06:30:00+00:00
Where:
Lyman Museum and Mission House
276 Haili Street
Hilo, HI 96720
USA

Cost:
Free for members, $ 3 for non-members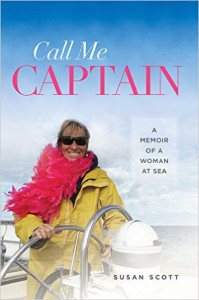 For years, writer and marine biologist Susan Scott owned a sailboat the way many women own a motorcycle:  She rode on it with her husband, and called it "ours," but Honu had always been far more his than hers.  When hormone storms, career doubts, and a floundering marriage shattered Susan's fairytale life in Hawai`i, at age 56 she took ownership of the couple's neglected 37-foot ketch, learning to repair, refit, and sail it in Hawai`i's rough waters.  A year later she invited a 28-year-old biologist friend to crew for her, and the two novice sailors set off for Palmyra Atoll, a National Wildlife Refuge 1,000 miles to the south, where she would work as a volunteer biologist.  On Palmyra Susan helped rescue baby sea turtles, banded seabirds, and corralled 10-lb. coconut crabs that resembled Godzillas with Edward-Scissorhands claws.  She also tenaciously repaired her boat, skippered it through terrifying storms, and to her surprise found that she and her husband were falling in love all over again—via satellite phone.  Published just last year, Susan's detailed and candid memoir of these events is the focus of tonight's presentation.  Copies of Call Me Captain will be available for purchase, and Susan will be happy to inscribe them.  Come along (at a comfortable distance) on this journey of a lifetime!