When:
January 16, 2017 @ 7:00 pm – 8:30 pm
2017-01-16T19:00:00+00:00
2017-01-16T20:30:00+00:00
Where:
Lyman Museum
276 Haili St
Hilo, HI 96720
USA

Cost:
Free to Museum members, and $3.00 for nonmembers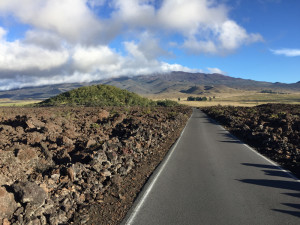 Evening presentation:
Hawai'i Island's Saddle Road allows you to drive through one of the fastest-changing landscapes on Earth … but don't linger too long!  Four Mauna Loa eruptions—between 1843, when Titus Coan got the idea of "pyroducts," or lava tubes, and 1935, when the Army bombed the lava flow at Thomas Jaggar's request—laid a solid lava base for today's roads.  On a clear day, the stunning contrast between the smooth shield shape of Mauna Loa and the cinder-cone-covered summit of Mauna Kea is dramatic.  Pu'uhuluhulu, likely the most-visited cinder cone on Hawai'i, may also be its most enigmatic cinder cone, full of secrets.  Mauna Kea's summit has been greatly modified by 15,000-year-old glacial moraines, but on Mauna Loa, if glacial deposits exist they are buried under hundreds of feet of lava.
Dr. Jim Kauahikaua, of the USGS Hawaiian Volcano Observatory, and Dr. Ken Hon, of UH-Hilo's Geology Department, help us kick off Volcano Awareness Month with this look at the geology of Mauna Loa and Mauna Kea, including lava flows and glacial features along the old Saddle Road and the new Daniel K. Inouye Highway.  Join us on either of two occasions:  a "matinée" on Thursday afternoon, January 12, and a Monday evening presentation on January 16.
Admission to these wonderful programs is free to Museum members, and $3.00 for nonmembers. 
Please support the Museum by becoming a member, and enjoy all Saigo Series programs, all year round, at no charge! 
Seating is limited; first come, first seated. 
On Monday evenings only, additional parking is available next door at Hilo Union School, Kapiolani St. entrance; park, then walk through our green gate in the rock wall.
On Monday evenings, doors open at 6:30PM.  E komo mai!