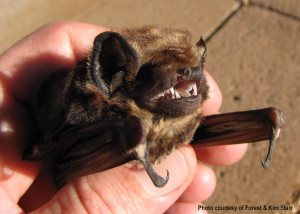 September 28, 2015, 7:00-8:30 p.m.  `Ōpe`ape`a: Hawai`i's Elusive and Only Endemic Land Mammal.  Just recently named the State's official land mammal—a belated but unsurprising award, since it is the only land mammal endemic to Hawai`i—the `ōpe`ape`a (Hawaiian hoary bat, Lasiurus cinereus semotus) is little understood, difficult to study, and an endangered species to boot.  Most of what we know so far about this tiny furry creature has been learned in the past two decades—with a huge bump of genetic information appearing in the last two years.
This evening's program is presented by two researchers with the Hawai`i Cooperative Studies Unit/USGS Kilauea Field Station.  Kristina Montoya-Aiona introduces us to the basics of bat biology, ecology, and behavior across our State, and her colleague Corinna Pinzari shares the latest findings:  that hoary bats migrated to these Islands from North America at least twice in the past 10,000 years.
Join us for a rare look at our secretive (and now official) State Land Mammal!
Free to Lyman Museum members; $3 nonmembers.
Doors open at 6:30 p.m. for evening public programs.
Limited seating; first come, first seated. Additional parking next door at Hilo Union School.